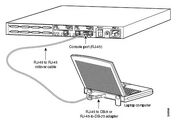 About
The system console, computer console, root console, operator's console, or simply console is the text entry and display device for system administration messages, particularly those from the BIOS or boot loader, the kernel, from the init system and from the system logger. It is a physical device consisting of a keyboard and a screen, and traditionally is a text terminal, but may also be a graphical terminal. System consoles are generalized to computer terminals, which are abstracted respectively by virtual consoles and terminal emulators. Today communication with system consoles is generally done abstractly, via the standard streams (stdin, stdout, and stderr), but there may be system-specific interfaces, for example those used by the system kernel.
Reference
Link
Ad blocker interference detected!
Wikia is a free-to-use site that makes money from advertising. We have a modified experience for viewers using ad blockers

Wikia is not accessible if you've made further modifications. Remove the custom ad blocker rule(s) and the page will load as expected.